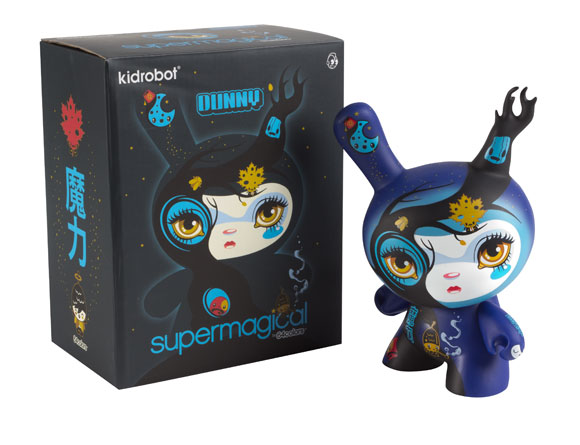 De eerste 8" Dunny release van dit jaar is bekend gemaakt!
De Supermagical Dunny van
64 Colors
.
'I roam the forest keeping a watchful eye for those who disrespect that which is sacred and in decline.
Beware and do not destroy, or I will descent upon you with a mighty fury
and vengeance that is swift and absolute.'
Geinspireerd door mythen en folklore, bovennatuurlijke gebeurtenissen en wandelingen in het bos achter hun studio.
64 Colors laat zowel echte en ingebeelde verhalen terug zien op deze 8" Dunny. Het resultaat is een mooie maar genadeloze bewaker van het bos. De Supermagical Dunny beschermd en waakt over de dansende bladeren, de mystieke paddestoelen en de eikeltjes. Het vertakte oor, de mooie waakzame ogen en de geschilderde details maken deze Dunny echt uniek en de stijl van 64 Colors is zeker erg herkenbaar. Ik denk ook zeker dat hij goed bij
de twee Dunny's van 64 Colors uit de 2011 serie
zal passen.
De Dunny word op 23 februari gereleased en zal een oplage hebben van 1200 stuks.
Outland store verwacht hem zelf iets laten omdat KidRobot vaak wat laat is met de leveringen aan Europa. Pre-orderen kan al op
de site van Outland
.